Refund Policy
A valid itemized cash register receipt must accompany all refund requests. Full refunds or exchanges will be granted during the first week of a semester.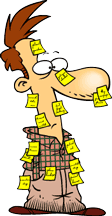 Defective books will be exchanged during this same period--when accompanied by a valid receipt. We do not intend to sell damaged books, nor do we buyback damaged books. Therefore, it's imperative that in the unlikely event you receive a damaged book, that you exchange it during the refund period. Books returned after the refund period, new books with markings, or opened "shrink wrapped" packages will be purchased at our normal buyback price. See our buyback policy.
---
Buyback Policy
Books & More buys current textbooks everyday. You do not need a receipt to sell your textbooks. We only ask for a student I.D. or a driver's license. We do not buyback books with any damage whatsoever. We never buy books with water damage, loose pages or bad bindings. When selling your books, we generally pay about 50% of the retail price of the on-campus store, so you get the same or more as on-campus when you sell your books at Books and More. Of course, we also have quicker service so you can get in and get out with cash in your pocket faster than anywhere else. Certain books may be purchased for less. See exceptions.
---
Policy Exceptions
Books sold with online access codes, CDs, spiral bindings, perforated pages, study guides, solutions manuals with writing, "no class offered" or overstocked books will be purchased, if possible, at a reduced price or at a wholesale price. Textbooks with excessive highlighting or notes will be also be purchase at a reduced price. The bottom line is that textbooks must be in a condition that would allow them to be resold. If you wouldn't buy it, chances are we won't either.