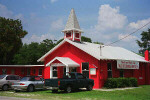 Books and More, Inc. is an independent privately owned college textbook store that serves the students of Hillsborough Community College . A former student, fed up with high book prices on campus, started Books and More so that students would have a choice when it came to buying textbooks. Our mission has always been to provide a convenient, fast, friendly and efficient place for students to purchases textbooks, school supplies, and HCC merchandise. We've got the lowest prices on all your school needs. We're committed to giving HCC students a real choice when it comes to buying college textbooks. We're a one-stop-shop college textbook store. If you need it, chances are that we've got it. Stop by anytime to compare prices, or just to say "Hi." Our friendly staff is always available to answer any questions you may have. We're also a proud member of the National Association of College Stores.
Featured Services
Thousands of new and used textbooks for HCC .
Lowest textbook prices of any bookstore!
Counter Service--no more searching for books! Just bring in your schedule and we will find your books for you.
Medical Reference Books.
All major credit cards including Visa, MasterCard, and Discover accepted.
HCC merchandise including T-shirts, bumper stickers and more.
Jansport© backpacks.
Complete selection of school supplies including pens, pencils, papers, notebooks, calculators, etc.
Get It Cheap!!!
So what's the big deal? It's just a buck or two, right? Wrong! At Books and More all of our new and used textbooks are already priced lower than any other store, on or off campus. So right away you're saving money. But here's an even better deal. We carry more used books! So while the other stores have already run out, we've got stacks. Used books can save you big bucks. So keep more money in your own pocket, come to Books and More.